Some history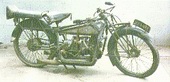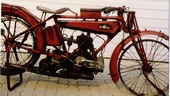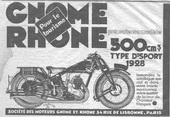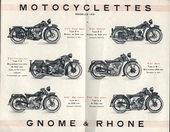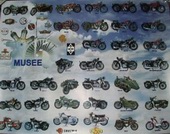 The information presented here comes from the "The encyclopedia of the motorcycle" by Hugo Wilson, various websites, including articles by Rafał Dmowski, the wiem.onet.pl portal , the website of the French association of Gnome&Rhone motorcycle owners - http://www.amicalegnomerhone.net/index.php3 and many others.
Société des Moteurs Gnome et Rhone, a Parisian aircraft engine factory, was established in 1915 as a result of fusion of two distinguished manufacturers - Gnome (1905) and Le Rhone (1912) - which produced rotating star motors constructed by Louis Seguina for the needs of French aviation. After the merger stationary stellar motors were produced there, and then (based on a unified cylinder) a family of 5-, 7-, 9-, 10-, 14- and 18-cylinder Mistral star engines were produced, licensed among others in Poland (P11 / 1 in 1932), Czechoslovakia, USSR, Yugoslavia, Romania, Italy and Hungary .
In 1920-1959 it was also a motorcycle manufacturer. In 1920 Gnome & Rhone purchased a license for the production of the British motorcycle ABC (All British Company). After getting the first experience in 1923, the production of their own single-cylinder motorcycles with 346 and 498 cc capacities in the lower (Grand Sport) and top-valve (Supersport) versions started.
Then, in 1931, motorcycles reminiscent of the BMW style with a pressed sheet steel frame, boxer two-cylinder engines with a capacity of 496 cm, cardan's driven and a single-cylinder 250, came into production.
Later in 1935, the top-valve type X - 746 cm appeared, and in 1937, the model was specially constructed for the needs of the AX2 army - 800 cm with a two-cylinder sv engine. A test of quality was the participation of the AX2 motorcycle team with a side-car in February 1939 in the Paris-Dakar rally.
In cosideration of the increased demand after September 1939 in May-June 1940, the AX 2 model was also produced at TERROT in Dijon for the needs of the army. The German's entry not interrupted production at this plant. Supposedsly, ca. 3880 copies were made there.
After the Second World War, under de Gaulle's regulation of May 29, 1945, the company was nationalized and under the name SNECMA exists to this day, participating in the development of the latest aerospace structures and in space research programs.
Until 1959, SNECMA produced two-stroke motorcycles with capacities of 125, 175 and 200 cm under the name Gnome Rhone.